OT 4 Kids, inc.

Joyfully serving the families of Northern Virginia, Maryland and Washington DC for over 12 years!
We specialize in treating children with a broad range of needs; from handwriting, school and socialization challenges, through the entire Autism spectrum. Our focus is on early intervention in any developmental delays using the Sensory Integration frame of reference.

What is Pediatric Occupational Therapy?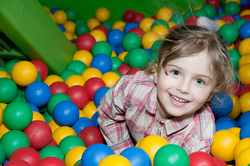 Pediatric Occupational Therapy helps children develop the skills needed for self-help, play and learning. Goals are achieved through purposeful activities and play in a child-friendly environment.

---
Does your child...
Have difficulty keeping up with peers academically or motorically?
Become frustrated or fatigued with school work or handwriting?
Have coordination difficulties or clumsiness?
Have a high activity level or short attention span?
Have difficulty relating socially to peers?
Display poor organizational skills?
Have difficulty with self-help skills, such as grooming, dressing, or feeding?
Our treatment philosophy
OT 4 Kids believes in a team approach to meeting your child's needs. Home programs for the parents and collaboration with teachers, school therapists and other professionals are encouraged.

All treatment is done within the context of a warm and positive relationship between therapist and child. This child-friendly environment includes dynamic therapeutic activities to develop play and social skills while reaching sensory-motor goals. The therapists work with the parents as partners in their child's overall treatment program.