All of the therapists at OT 4 Kids are registered and licensed Occupational Therapists with a broad range of experience, including school, early intervention, outpatient and hospital settings. They specialize in sensory integration therapy and address fine and gross motor delays, sensory needs, socialization and personal interaction challenges.


We are fortunate to have highly qualified, caring and creative therapists who are truly committed to the kids and their families.

Christi Harmon, OTR/L

Director, OT 4 Kids, Inc.
In addition to managing the services of the clinic, Christi also gives presentations on Sensory Integration and how it can affect behavior and learning. She been asked to present to myriad of schools, parent groups, church programs, and other professionals working with special needs children. She has also served on the Board of Directors of Developmental Delay Resources (DDR). Christi is certified to administer the Sensory Integration and Praxis Tests (SIPT) and is trained in the Therapeutic Listening Program, Handwriting Without Tears, and a number of other proven techniques.

---
Amy Seymore, MOTR/L
Amy graduated from James Madison University with a Masters of Occupational Therapy in 2008. She started her career working in a variety of setting including skilled nursing, home health, and pediatric outpatient facilities as a traveling therapist. After settling in Arlington with a permanent position at OT 4 Kids in July 2010, she has gone on to share her knowledge of sensory based treatment with guest lectures at her alma mater and supervision of level II fieldwork students. Amy has a passion for the water and holds three specialty certifications from the Aquatic Therapy and Rehab Institute, including pediatrics. Amy is experienced in running occupational therapy groups for various age levels and abilities. She is trained to administer Therapeutic Listening, and has completed all of the Handwriting Without Tears workshops. When she isn't working, "Ms. Amy" enjoys teaching swim lessons, riding her bike, and playing her guitar.

---
Maggie Bridges, MS, OTR/L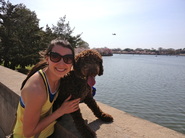 Maggie joined the staff of OT 4 Kids in January 2012. Maggie graduated from George Mason University, summa cum laude, with a Bachelor of Science in Biology, then went on to graduate from Virginia Commonwealth University-MCV, summa cum laude, with a Master of Science in Occupational Therapy. Maggie is certified as an Early Intervention service provider. She is trained in Handwriting Without Tears, to administer Therapeutic Listening, and to administer a vision screening. Maggie is experienced in running various groups, as well as a camp, with OTs and therapists from other disciplines, for a range of skills and abilities. When she isn't working, Maggie likes to hang out with her chocolate labradoodle, Harper, and enjoy the great outdoors running, biking, and hiking.

---
Susan Laker, OTR/L
---